It doesn't matter if you are talking about a kitchen, bathroom, closet, or TV room. Corners are difficult areas. They can be just as hard to decorate as they are to use for storage, and if you do have cupboards in the corner, they are often so deep that they are virtually useless for everyday items. Fortunately, cabinet manufacturers have noticed these problems, and they have designed some pretty effective solutions that provide homeowners with easy to use corner storage. The following corner cabinet ideas will give you beauty and functionality throughout your home.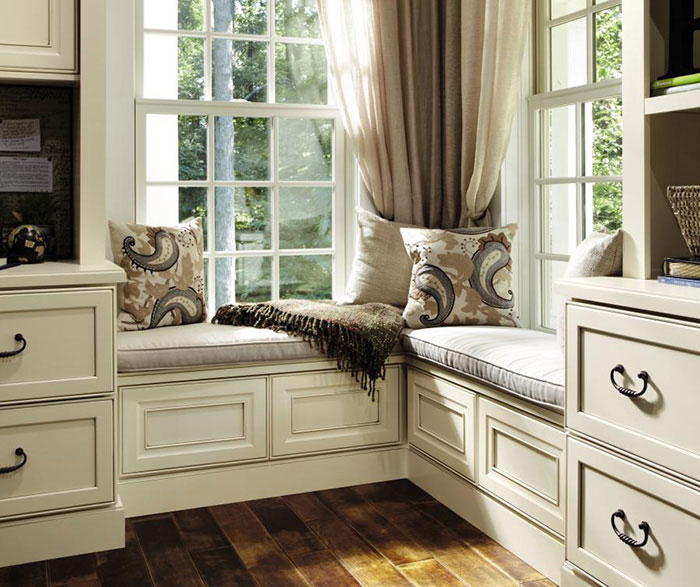 Corner Kitchen Cabinets
Corner kitchen cabinets have come a long way. No longer are they large empty spaces where items can become lost. Instead they are carefully designed with your needs in mind. For example, a base cabinet in the corner with a curved pullout will feature two adjustable kidney shaped shelves made out of chrome and wood. These shelves swing out smoothly and quietly, allowing you to reach all of its contents quickly and easily.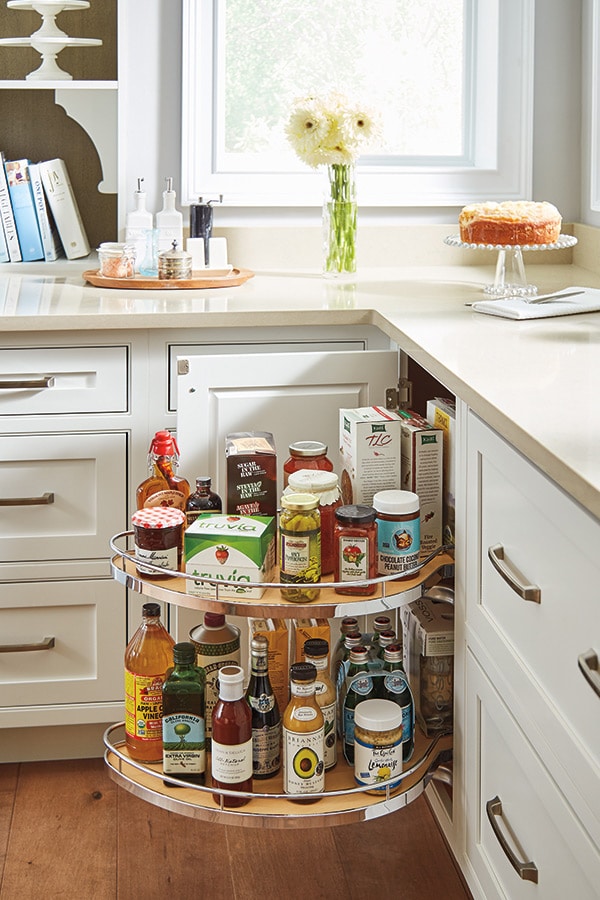 You will also discover corner drawer cabinets that look like two sets of drawers, but they are actually one drawer that extends way back inside of the cabinetry. There are usually two or three of these drawers stacked on top of each other. Another option is a lazy Susan pullout cabinet. When you open the door, there are two tires of lazy susans you can pull out and rotate, which makes it easy to access everything inside. A different take on this idea is the deep bin base cabinets by Shrock where the lazy susan are actually deep bins. This design prevents things from spilling as they are rotated.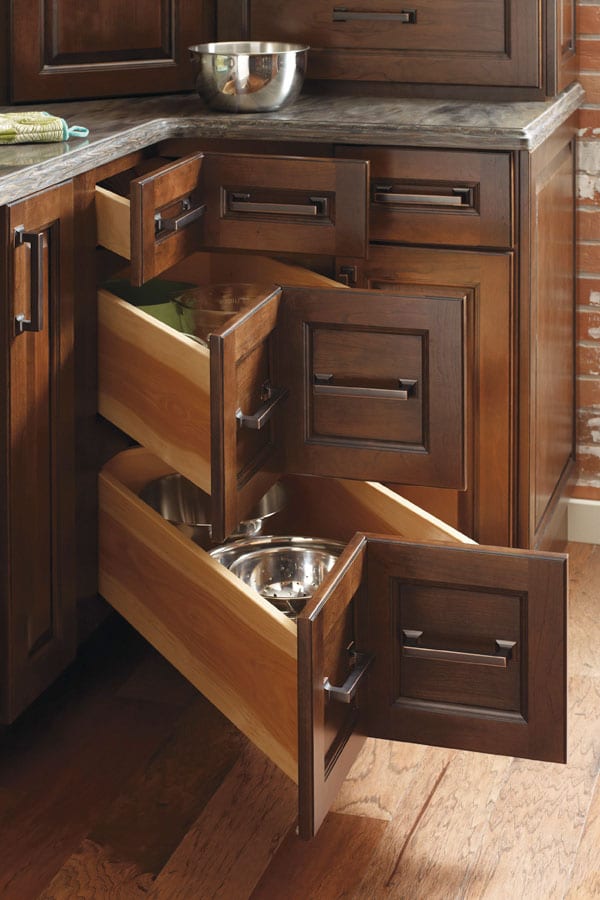 You can make use of the upper corner cabinets kitchen designs offer by installing a diagonal stacked wall appliance garage like the one from Decora Cabinets. These set on the countertop and extend upwards. It's base is a "garage" complete with a rolling door. This area is just right for tucking away small appliances. Over the "garage" are two rotating shelves that are ideal for baking supplies or canned goods.
Corner TV Cabinets
The TV room is often an untidy area that can be overwhelmed with video games, cable boxes, and other clutter, in addition to the television itself. Corner storage cabinets for this area bring entertainment centers to a whole new level. They are attractive, hide clutter, and display the TV beautifully.
The face of corner TV cabinets fit diagonally across the corner of the room. There is a large area on top, or in the center of them, for the set. Underneath, one will find cupboard doors that can be solid, glass, or ornately detailed. Inside the cupboards, there are shelves for storing game consoles and cartridges, DVDs, and Blu Rays. Some models have drawers too, where you can place small items like remotes. Open shelving is ideal for cable boxes and streaming devices as well as DVD players. Some modern versions even include a built-in electric fireplace with the look of real burning logs and a heater.
Filling the Corners of a Closet
Walk-in closets offer ample storage space, but if you aren't utilizing the corners properly, you are depriving yourself of additional space. Tall corner cabinets designed for closets provide shelving from the floor to the ceiling. These spots are perfect for shoes, hats, and other accessories. Some have adjustable shelving so you can give your closet more of a customized feel. This also allows you to leave room for a hamper at the bottom.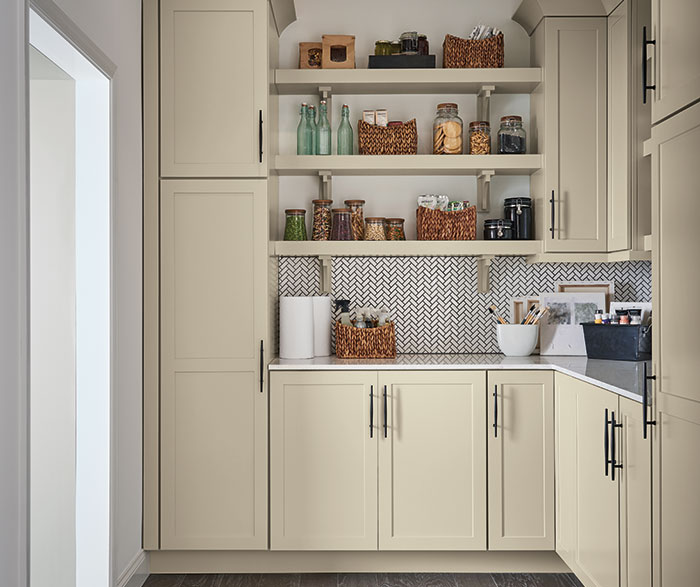 Bathroom Corner Cabinets
Just like the kitchen, corners in a bathroom can cause a bit of confusion. You don't want to waste any space in these smaller rooms, so it is important to have well laid out cupboards and drawers. You also need ample storage for personal items like make-up, razors, and hair products in addition to a place for necessities such as towels, toilet paper, and soaps.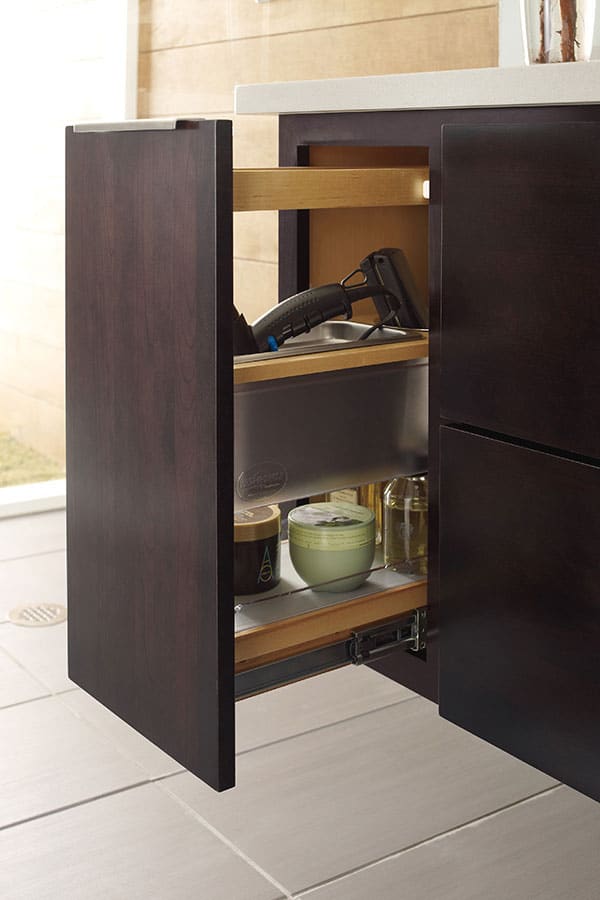 The most common corner units for a bathroom will tuck nicely into the corner with the face of the piece sitting diagonally across. A large cupboard is normally found at the base of it with shelving overhead, but you will also find ones with shelving from the floor to the ceiling. Unique X-shaped shelves work beautifully for displaying towels while keeping them close at hand. Drawers can be a welcome addition to these units as they offer a hiding place for small toiletries.
Some corner designs for the bathroom will help free up floor space. This is quite beneficial in a room that is already at a minimum when it comes to extra space. Look for versions that incorporate a tilt out hamper or two-piece designs that will provide a bit more countertop space for you on top of the lower section. They even make corner vanities that house the sink, with storage space underneath. Although these are all very utilitarian, they can be beautifully designed and rival the look and feel of a corner curio cabinets with etched glass doors or carved wood.
Once you begin shopping for corner storage solutions, you will discover all of these options and more. Talk to your contractor when starting your next renovation project to see how this functional and beautiful cabinetry can be incorporated into your own home.
Need More Corner Cabinet Ideas?
Give Us A Call at 973-636-0100