From Concept To Completion
"We would recommend this company for a kitchen renovation or any other home redesign project without hesitation."
Hila Berger, Bergen County NJ
Kitchen Cabinet
services crafted specifically for you.
We believe that cabinets can truly make or break your kitchen, bathroom or cellar. They have the ability to add character and class to any room in your home, with or without a complete remodel.
With nearly two decades of experience in custom cabinetry, Trade Mark Design & Build knows a thing or two about helping you select the best possible options for your individual home. We work hard to bring high-quality service and craftsmanship to Northern New Jersey and the surrounding areas, turning ordinary homes into dream homes.
From our complimentary consultation and customer-centered design services, to our thorough pre-construction meetings and material sourcing tailored to your custom kitchen wish list, Trade Mark Design & Build offers the most comprehensive, personalized design-build firm services in the tri-state area. All of our cabinets come complete with a manufacturer's warranty to guarantee our extended customer satisfaction post installation.
Are you looking to make your home the talk of the town with our new cabinetry? Contact us today for your free, in-home consultation and with any questions you may have regarding our quality cabinetry or the process.
We usually turn around initial designs and budgets to clients within a week, with financing options available when necessary. We work to make sure you are satisfied with the project from beginning to end.
Kitchen Cabinet Designer & Installers
Types of Kitchen Cabinets
Kitchen cabinets are manufactured in several forms, generally speaking. Full custom will give you the most options along with the highest price. As you work down the line those options and costs are reduced. View the kitchen remodel budget calculator for details.
At the top of the list, full custom cabinets will also offer a high quality fit and finish. If you can appreciate quality you will be most comfortable with this product. Viewing the available options will help determine what's the best fit for your project.
Average Cost of Kitchen Cabinets
Breakdown of Budget Allocation: Masterbrand
Most Popular Cabinet Door Styles
Breakdown of Door Styles: Internal Data
Kitchen Cabinet Door Styles
At first glance all kitchen cabinet doors might look the same – The details make the difference.
Shaker doors are simple and clean but can have some profiles to the interior edges of the rails and stiles as well as an exterior door edge profile – the same is true for the mitered and raised panel doors.
Flat panel doors are typically square edged to compliment more contemporary designs. The flat panel doors are great for showing off beautiful verticals wood grains.
There is no shortage of durable countertops to choose from in the market, you may wonder why so many choices? It really comes down to the color, tone, pattern, etc that fits the style you're looking for.
Outside of the mainstream Quartz and Granite countertops are some interesting choices such as: concrete, lava, glass, variety of metals (stainless, zinc, copper), resin encased metals and even paper to name a few.
Breakdown of Countertops: Internal Data
Our Kitchen Cabinet Design Process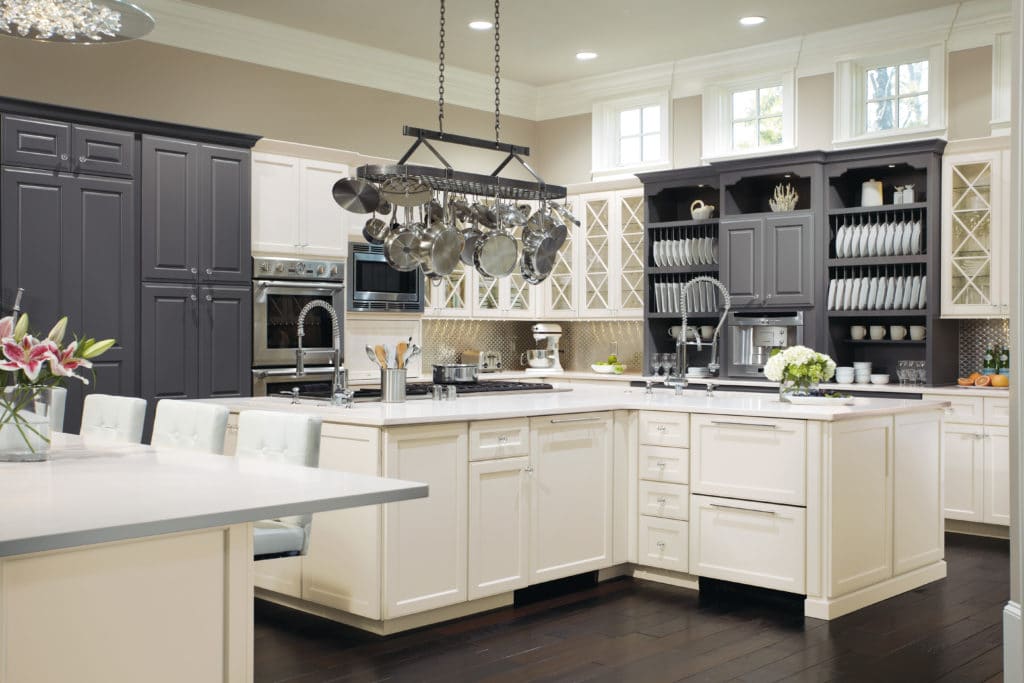 " Paul and Dan and the rest of their team did such a fantastic job on our kitchen and bath remodel that till this day, my wife and I are still getting compliments."
Lets make a statement together