A walk-in closet is the dream of many homeowners. Who wouldn't want a spacious area where they can easily keep all of their clothes and accessories in a neat and organized fashion? Many people never indulge in this dream because they assume they don't have the room for such luxuries, but the truth is, today's custom walk-in closet designs allow homeowners to create a wonderfully organized and spacious closet in small spaces as well as large. In fact, walk-in closets are no longer restricted to just the bedrooms. These closets are showing up throughout the house, and investing in the construction of a new custom closet can increase the value of your home as well as add some much-needed storage space.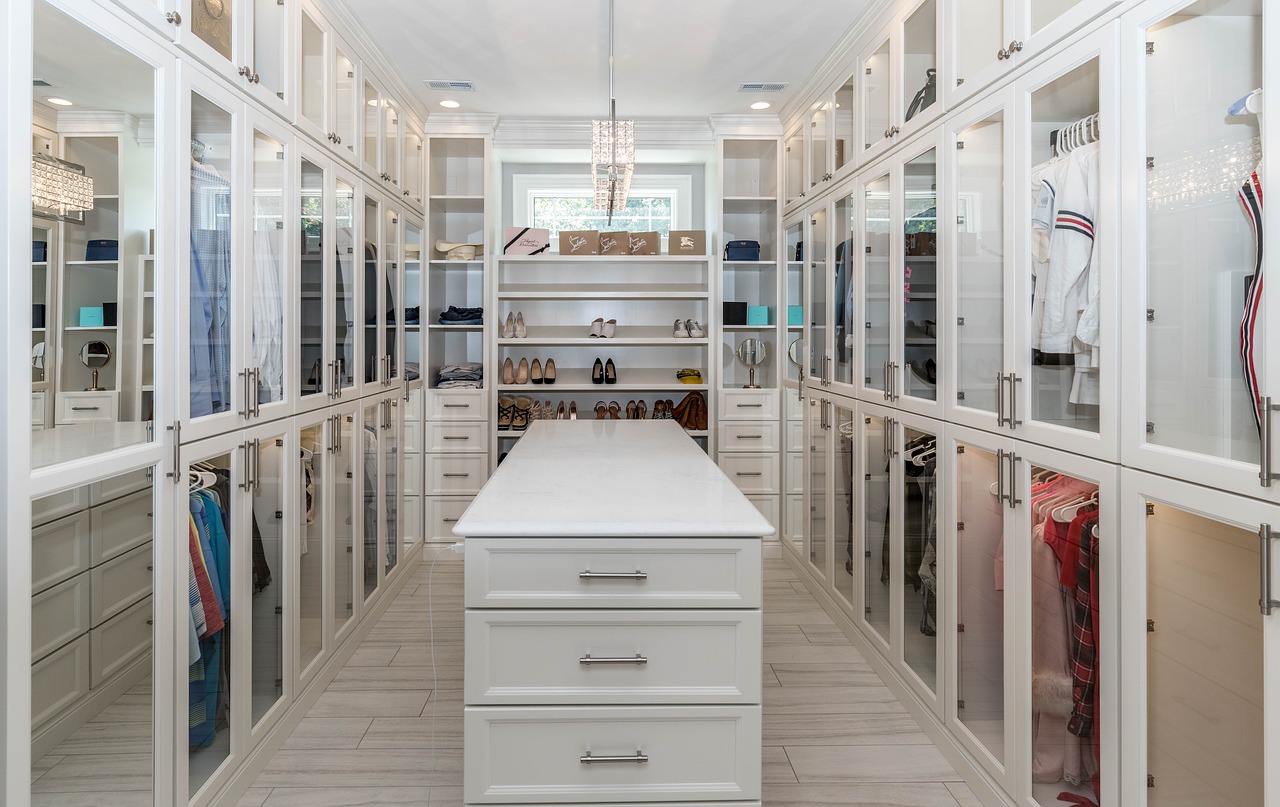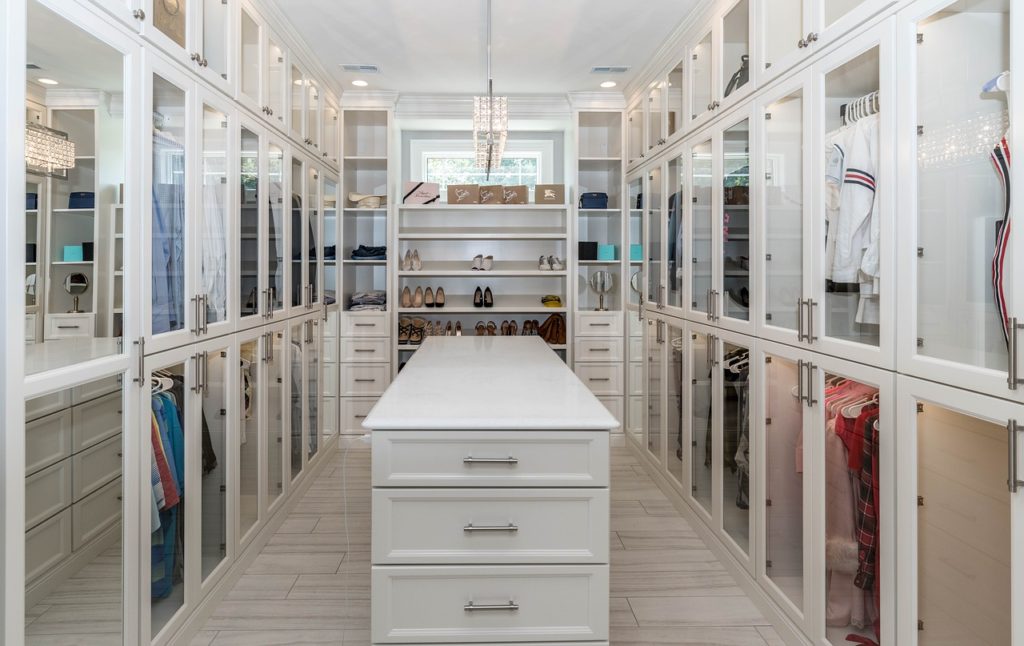 Walk In Closet Ideas
The traditional walk-in closet is designed for the master bedroom. It is large and spacious with plenty of organizational closet systems in place to keep clothing and accessories neat and tidy. The main benefit of these closets is to have everything you need right at your fingertips. You can quickly see exactly what you have available to wear as soon as you walk in. Many are large enough that you can even get dressed in them, but the modern homeowner is thinking outside of the box and having custom designed walk-in closets installed throughout the home.
Smaller walk in closet ideas are now being used in the main living area near the front door. These closets are beginning to be listed as an attractive feature in homes that are for sale. The idea behind a closet in this location is to accommodate not only you and your family's coats, shoes, and other outerwear, but it makes the perfect place for guests to put their belongings as well. No longer do you have to ask for everyone's coats and place them on your bed.
The Walk-in closet is even being added to the bathroom area. A big problem for many homeowners is a lack of storage space for toiletries and linens. Walk-in closet ideas for this important space include multiple shelves for towels, toilet paper, and tissue. Drawers and closed cabinetry can hide personal items, and wire baskets work well for bar soaps, shampoos, and other smaller items.
In the kitchen, walk-in closets are being designed as a pantry. This allows the home cook to keep all of their foods, spices, and ingredients well organized. Plenty of shelves are incorporated into the design in varying heights to accommodate everything from canned goods to tall boxes of cereal. Drawers can hold silverware and utensils along with spices. Wire baskets can be worked into the design plan too. These come in handy for potatoes, onions and other produce.
Large laundry rooms can also benefit from a walk-in closet for storing detergents, fabric softeners, drier sheets, and other supplies. Racks, hooks, and garment bars are used to hold wet clothes that cannot be placed in the drier along with clothing that is laundered and ready to be put away. Some homeowners are simply turning the laundry room itself into a closet with the washer and drier located on the far wall and shelving, racks, and wire bins lining the walls on each side leading up to the appliances.
Walk In Closet Organization Ideas
There are several organizational pieces that can be used in a walk-in closet. These pieces make the closet look tidy while allowing you to see exactly what you have at a quick glance. These organizational pieces can be used in a multitude of combinations allowing you to customize the space to your specific needs.
Garment rods are a standard in bedroom closets. These can be longer, reaching across the length of a closet, or shorter. Shorter garment rods are often stacked to create more room to hang clothing. Since most pants, skirts, and shirts only hang down so far, a second bar can be placed under the top bar. This instantly doubles your space.
Fixed shelves are ideal for holding bags, hats, and other awkward pieces that simply don't fit in a drawer. These shelves display items nicely, and vertical panels can be used to section off areas for specific needs. This adds to the organization. Hutch drawers, which look like a chest of drawers, can be incorporated as well with shelving above for even more storage options.
Slanted shoe racks are perfect for boots, sandals, sneakers, and other footwear. The angle keeps dust to a minimum and allows you to spot the pair of shoes your are searching for quickly. Include a stool in your design. This gives you something to step up on to reach higher items while also giving you the perfect spot to sit and put your shoes on.
In addition to these main walk in closet organization ideas, there are several accessories you can add to your own closet. Fixed or sliding tie racks keep neck-wear wrinkle free. Similar racks are available for belts. Wire baskets can hold odd shaped pieces, and they make the perfect hamper for dirty clothes. Velvet jewelry trays can be placed in drawers to eliminate the need for a separate jewelry box, and coat hooks are ideal for your most frequently used jackets that you will want to grab in a hurry. When installing a walk-in closet in the laundry room, consider adding mop and broom racks as well. The entire organizational system can have a nicely finished look by using toe kick and filler panels to cover empty spaces between shelves, panels, and drawers.
A Small Walk In Closet
A small walk in closet, or reach in closet, is the perfect solution for homeowners with smaller spaces. No longer do those with a smaller home have to do without the luxuries others have available. You may not have the room to design a full-blown walk-in closet, but your designer can help you seek out room enough for a closet that you can still step into.
In tight spaces, the shelving can be used from floor to ceiling in order to take advantage of height rather then floor space. When you cannot spread out, you go up. Garment rods placed one over the other also increase storage space. Paint the walls in lighter, bright colors to give the illusion of a large area while allowing you to see items better. Mirrors can also create a bigger appearance, and recessed lighting will fit better than a chandelier style light.
A Large Walk In Closet
The large walk-in closet is what most homeowners have pictured when they begin planning for their new storage space. These are either worked into the plans of a new home or require the use of a spare bedroom in older homes. You can create a master bedroom's walk-in closet by opening the room up into the bedroom next to it. This bedroom then becomes the closet. Keep in mind that this eliminates one of the bedrooms.
One single large walk-in closet can utilize all of the organizational systems available for these closets. They can be customized for one or two people. Couples often use one half of the walk-in closet for themselves and the other half for their spouse. Each individual can choose the organizational pieces that will work best for their needs. When designing the space for one person, there is a lot more freedom in what can be added. Some people will still only store their belongings on one side in order to use the other half as a dressing room or vanity area.
Large walk-in closets also provide you with a little more freedom when it comes to decorating the space. Since these are often the size of a small room, you need to approach the decor in the same way you would in any room. You can keep it simple with basic neutral colored walls and carpeting. If elegance is more your style, consider a chandelier for lighting, glamorous wallpaper on the walls, and special features like an island with additional storage or a long bench for seating.
With all of these options available, your dream of a walk-in closet can come true. Even if your space is small, the wonderful organizational systems now offered to homeowners allow you to create a custom walk-in closet easily. Don't think that these storage spaces have to stay in the bedroom. Take advantage of the ability you have to design a walk-in closet for any room of the house where you could use a little more storage space.
Give Us A Call At 973-636-0100