Remodeling your kitchen can be a fun and exciting experience. This is especially true with all of the options available to homeowners today. You can keep your project simple and make small changes like adding new LED under cabinet lighting and new appliances or you can be big and grand by removing walls and adding vaulted ceilings. If you aren't sure where to begin, look to these top ten creative kitchen ideas for inspiration.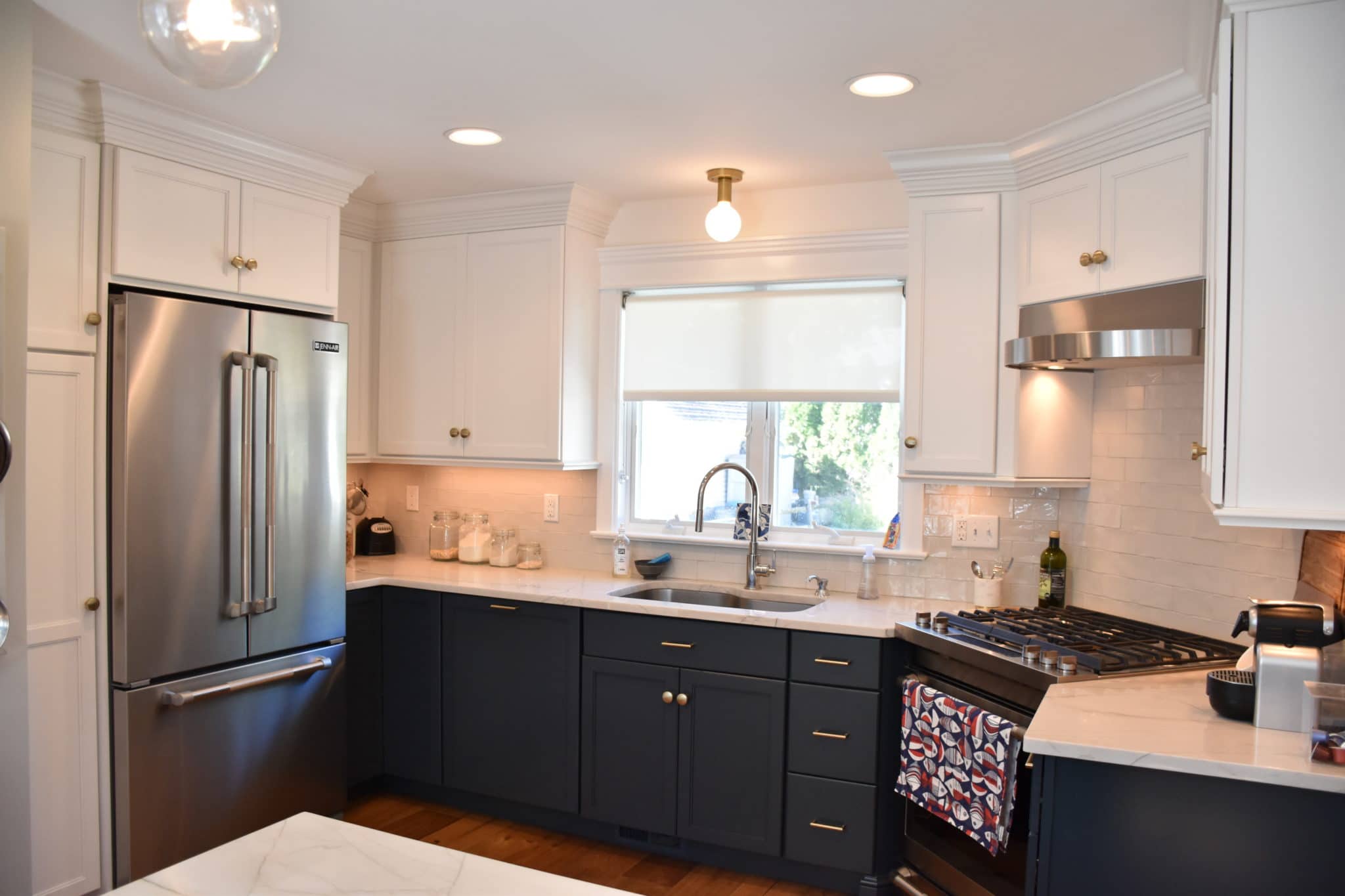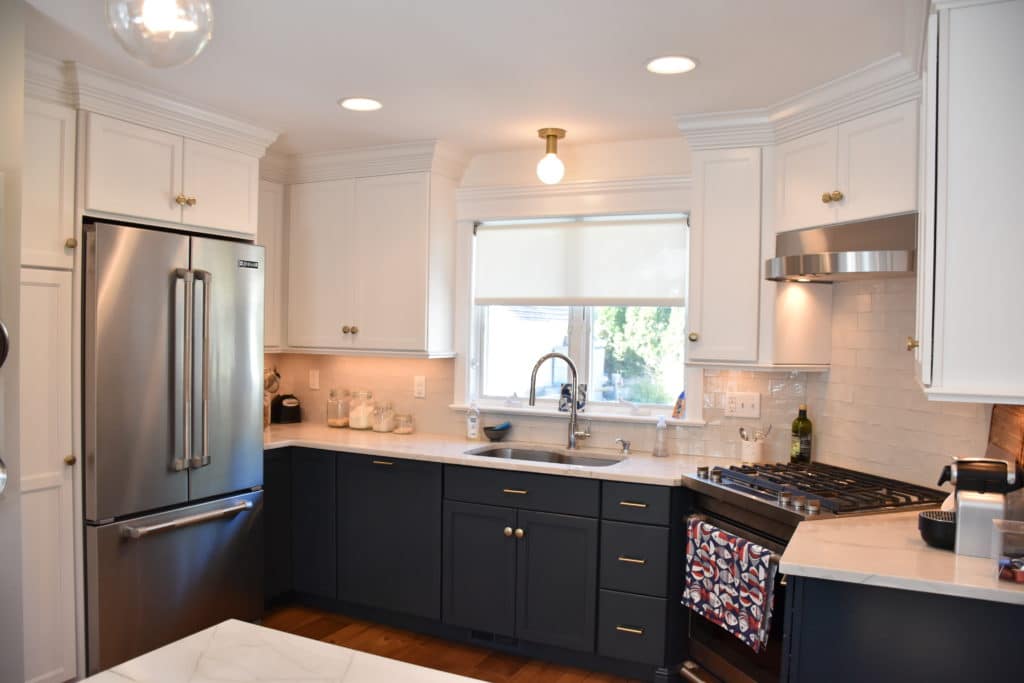 1. Remove a Wall to Open Up the Kitchen
Removing a wall is among the most popular trends in NJ kitchen remodeling projects. The cost of a kitchen remodel project is always a concern, but opening up this area will certainly increase the value of your home. You will have no trouble getting a return on your investment if you decide to sell. People love the idea of a kitchen that is open to the rest of the living space.
By removing the wall that divides the kitchen from the living area, you are creating the perfect place for entertaining. You can be preparing meals while visiting with your guests rather than being stuck alone in the kitchen. Even when it is just you and your family, you will be able to enjoy time with your loved ones while cooking dinner or cleaning up afterward.
2. Get Creative with the Lighting
Be sure to include new lighting into your budget when figuring out the cost to remodel your kitchen. Every room needs three main types of lighting; general lighting, task lighting, and accent lighting. General lighting would be your ceiling fixtures that illuminate the majority of the room and accent lighting is simply decorative.
Task lighting is a must-have item for every kitchen. The best task lighting is LED under cabinet lights. They will illuminate your workspace beautifully, and it adds a wonderful ambiance to the area. A soft glow coming from beneath the cabinetry can be very sophisticated. Best of all, it makes a big impact for a very reasonable cost.
3. Replace an Existing Window with Much Needed Wall Space
If your kitchen has several windows, you may want to consider closing up one or more of them in order to gain more wall space. The other existing windows will still allow plenty of natural light to shine in, and ceiling lights, under cabinet lighting, and accent lights will further illuminate the area. With the new found wall space, you can add more cabinetry or shelving for additional storage. It can also be used as a place to install a wine rack, create a focal point with artwork, or hang useful items like a dry erase board to help keep you organized. When dealing with a small kitchen remodel, this idea can be affordable and it will add the illusion of more space.
4. Design an Efficient Corner Stove Layout
When it comes to figuring out how to remodel a kitchen, space is a major concern. You want to make the most of every available square inch. One of the best ways to achieve this is by creating a layout that includes a corner stove. The corners are often wasted space. Countertops in these areas reach too far back to be of any real use. Corners can also be a congested area where cabinet doors bump into each other when opened.
By placing your range top and oven at an angle in one of the corners, you are creating a very functional and efficient area. You will find that you have more counter space for working, and the flow of the room is much improved due to the fact that your main cooking area is now in the center of all of the action.
5. Add a Wow Factor with Vaulted Ceilings
A wonderful way to make your kitchen look spacious and spectacular is to vault the ceilings. The additional overhead space will make the entire room feel larger. It also adds instant beauty to what could otherwise be a boring and typical design. Exposed beams instantly add architectural detail, and using a ceiling fan or chandelier in the middle of the ceiling brings an elegant touch to the space. Vaulted ceilings are especially attractive over an open floor plan. It can bring the living area and kitchen together perfectly.
6. Add a Wine Bar
Wine bars don't have to be large and overbearing. You can easily add one into your kitchen cabinets remodel. Choose a space at the end of your cupboards and countertop to place your new wine bar. Cubbies for the wine bottles can be installed above with a rack for the glasses to hang from directly underneath. A countertop below this is the perfect spot for ice buckets and other necessities, and a wine cooler with elegant glass doors can be installed beneath the countertop. Make sure the wood and countertop materials match what is being used in the rest of the kitchen for a well-coordinated look.
7. Use Two-tone Cabinetry
Among the latest kitchen ideas that homeowners love to include in their NJ kitchen remodeling is two-toned cabinetry. Two-toned cabinetry is a great option when you can't decide on just one color. There are several ways to use two colors together in order to create a modern and interesting décor. You could use one color for the bottom cabinets and a contrasting shade for the upper cupboards. Another option is to use one shade for the face of the cabinetry and a second color for the fronts of the doors and drawers. You could even choose one color for the main cabinetry and pick something else for around the kitchen island. Your choices are only limited by your imagination. Combine wood finishes with painted surfaces for an even more dramatic look.
8. Clean Lines and Understated Finishes Speak Volumes
It is easy to get carried away when considering how much to remodel in the kitchen. Budget and time constraints will help keep you in line, but it will still be hard to come up with a finished product that looks beautiful and cohesive. Don't feel like you have to choose ornate items to make an impact. Sometimes it is more impressive to keep it simple. Clean lines will create a sleek and modern kitchen that will blend perfectly with many home décor styles. Understated finishes can also make a big impression. The kitchen is a space that is often cluttered. Countertops are covered with small appliances and cooking utensils as well as food items such as produce, baked goods, and everyday ingredients. Don't add to the chaos with busy patterns and bright colors. Understated finishes keep the kitchen looking clean and fresh.
9. Bring in Updated Appliances
The average cost of an NJ kitchen remodeling project often includes upgraded appliances. The appliances are the star of the show. You want pieces that are functional and beautiful. Invest a good portion of your budget into these items. Stainless steel appliances are always a popular choice. Their silver tone surface matches many colors and styles, and the finish is wonderful for hiding fingerprints and spills. Black is another classic option that brings a modern touch to the kitchen. Don't forget to add a coordinating range hood over your cooking area. It can become the focal point of the room and help tie all of the other appliances together for a cohesive look. Splurging on newer, energy-efficient models will give you an excellent return on your investment. They will save you money on the monthly utility bills, and they will add value to your home all in one step.
10. Create a Unique Backsplash
The backsplash is another example of a beautiful and functional kitchen necessity. It is needed to protect the walls directly above the countertop from stains and spills that are inevitable while cooking. Backsplashes are easily wiped clean, and they can look stunning when done properly. Ceramic tiles are one of the most commonly used materials for backsplashes. They are affordable when it comes to the cost of a kitchen remodel, and they allow you to be creative in their colors and patterns.
Glass panels are gaining in popularity. They are coated in a color on the side that is against the wall. The result is a smooth surface without any grout lines that create a very modern look. Natural stone is also sleek and sophisticated. Prices vary as they range from affordable granite slabs to expensive pieces of marble. If you like a historical design, or simply love the texture, use exposed brick or natural wood. Metal is often reserved for more professional kitchens.
Get started with your NJ Kitchen Remodeling Project today!