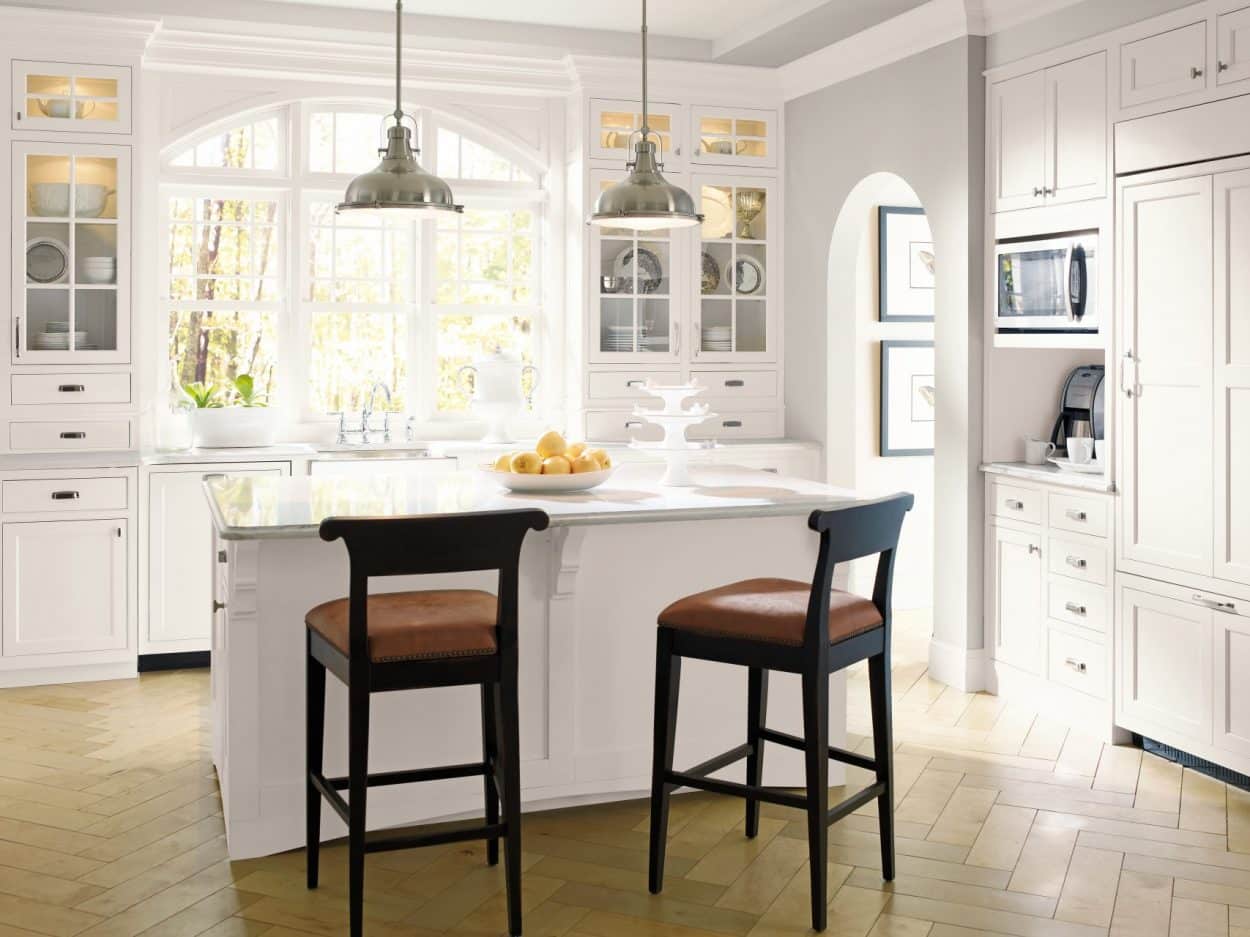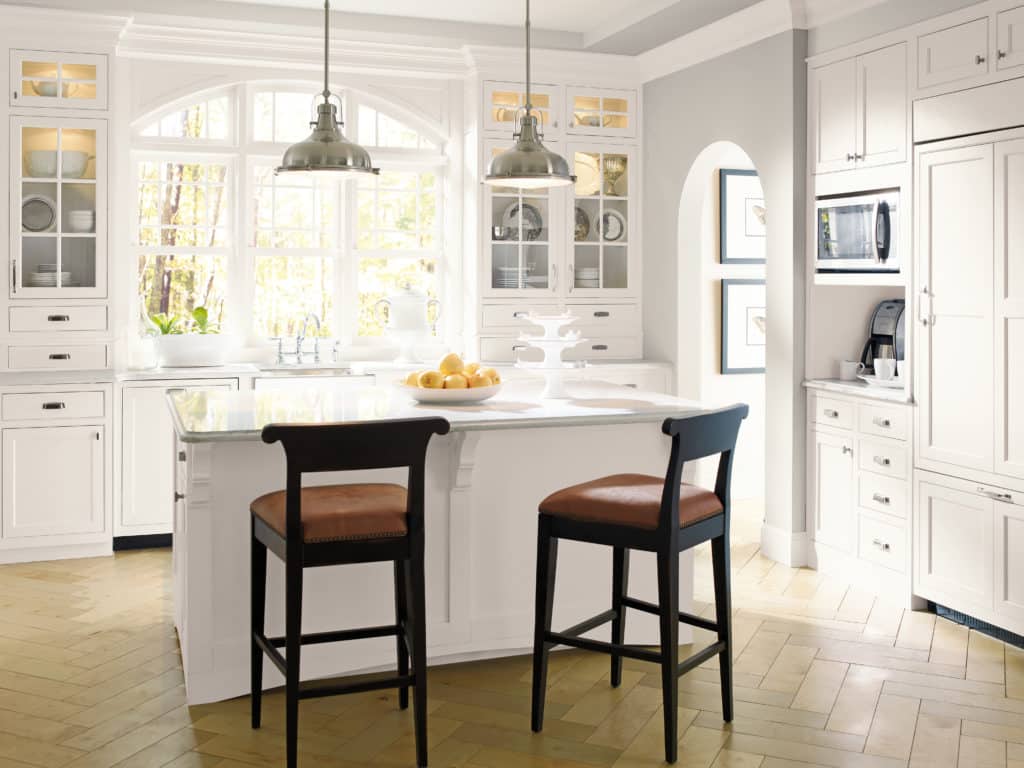 Kitchen Cabinets Should Fit Your Space & Your Lifestyle
Deciding on which kitchen cabinets to put in your kitchen is a very important decision, it's a large investment and will most like be the largest single expense you will have when you are updating your kitchen. That being said, it is reasonable to think the kitchen cabinets will fit the space they are intended for, but they also need to fit your lifestyle, meaning, the combination of available door styles and cabinet finishes really need to capture who you are and set the right tone for your home. The accessories and options need to meet your families food preparation and storage needs. Last but not least, the kitchen cabinets have to fit within your given budget. Kitchen cabinets are produced at several price points with varying construction types/options by many different manufactures in and around NJ and even more within the United States. The better quality brands will stand out with a lifetime warranty, giving you a little more peace of mind knowing your kitchen cabinet purchase and investment will be safe for years to come.
Construction & Components Of Kitchen Cabinets
The difference between your kitchen cabinets lasting a few years or a few decades is largely attributed to the way in which they have been constructed and assembled. Have you ever purchased a cheap set of utensils like forks, spoons and knives, and after a year or two you have about two of each left? The same can be said for inexpensive kitchen cabinets except they are not that cheap or easily replaced. Kitchen cabinets made of solid wood face frames, all plywood cabinets boxes and solid wood dovetail drawer boxes have the best chance of standing the test of time in your kitchen. How the components are manufactured and assembled will also determine how long the kitchen cabinets will last. Look for components that are fitted into one another using wood joinery techniques like dados and rabbeting that are glued and fastened together. The overall appearance should be neat and clean reflecting a pride in craftsmanship. The best door hinges and drawer glides are made by Blum or Grass and have their own lifetime warranty, there are plenty of imitations out there so don't hesitate to ask – most premature cabinet failures are due to poor quality hardware.
Inset Kitchen Cabinets vs Overlay Kitchen Cabinets
At some point during the planning of your kitchen cabinets you will be asked if you are looking for inset or overlay cabinets. inset kitchen cabinets refer to the door and drawers of the kitchen cabinets that are recessed into the face frame of the cabinet. The advantages of this style are: clean look, very traditional and very much a furniture like detail. Disadvantages of this style are: less interior cabinet space, costs more to do since it's a custom feature and reduced drawer head sizes means less room for drawer hardware. Overlay kitchen cabinets refers to the doors and drawers of the kitchen cabinet that sit over the frame of the cabinet. This style of kitchen cabinets are the most popular and are are widely produced as stock, semi-custom or custom kitchen cabinets providing the most price point options available. Inset kitchen cabinets are typically produced by custom cabinet manufacturers with higher quality standards, on the other hand, overlay kitchen cabinets are made by all sorts of manufactures, each having their own quality standards so pay close attention to the details.
Kitchen Cabinet Accessories & Options
Selecting the right accessories for your new kitchen cabinets can help you utilize the cabinets to their fullest potential. Kitchen cabinets with roll out shelves is number one on my list – the addition of these rollout shelves allows you to reference the goods all the way at the back of the cabinet just by pulling out the shelf. Double can roll out trash would be second on my list – mainly because it can be placed in the most convenient place for the user and does not take up any additional space in the kitchen. Cooking utensils and cutlery storage drawers would be next followed by spice storage that can either be as a pullout next to the range or on stepped shelves in the bottom of a upper cabinet next tot the range. From there the accessories and options can be tailored to the users specific needs. One word of advice would be to stay away from accessories that over complicate things, the goal is to improve the overall user experience and use of the kitchen cabinets. If you have an existing kitchen and you're looking to update the functionality, take a look at some aftermarket kitchen cabinet accessory manufacturers like Rev-A-Shelf and Hafele. They both offer a wide variety of cabinet organizational options. Hafele also carries decorative kitchen cabinet hardware.
Embellish Your Kitchen Cabinets With Furniture Details
Take your kitchen cabinets to the next level with the addition of furniture details, here are a few examples and ideas; furniture base molding on island cabinets, adding cabinet door panels to the open ends of upper cabinets and lower cabinets, multiple piece crown moldings, support countertop overhangs with either a decorative bracket/corbel or a turned/carved newel post. While most of the options sound very traditional many kitchen cabinet manufactures have adopted a wide array of complementary components to be used in more transitional and contemporary styles. On the converse, furniture details for kitchen cabinets does not have to mean the addition of the above mentioned components, true furniture details can be found at the beginning of the process in the kitchen design plans in the form of how the different components are married together to create a set of kitchen cabinets that appear to all be made as one piece with clean lines and mounding that tie every together. Achieving this level of detail may be difficult using stock cabinets but it is certainly possible with semi custom kitchen cabinets and if your budget allows for it, custom kitchen cabinets will allow for the most flexibility in terms of how you can add your own personal taste to the furniture details.
How to Choose A Kitchen Cabinet Door Style
To make this decision you should start by taking a look st your kitchen cabinet design plans elevations, this is the front view of your kitchen cabinets as they will appear on the walls of your kitchen. Survey the plans to gather an understanding of the various sizes of cabinets that make up the design. Now keep this in mind as you are looking at the kitchen cabinet door styles, you'll want to make sure the that the door style works as well for the largest cabinets and the smallest cabinets, in particular would be the narrow cabinets. It may even be possible that the kitchen design plan will need to be tweaked to accommodate a particular door style you have chosen. The next consideration would be for the decorative hardware that will get mounted to the various kitchen cabinets doors and drawers – some kitchen cabinet doors and drawers have either raised or recessed panels that create an opportunity or an issue depending on which decorative hardware is selected, looking ahead at this selection will help guide you in the right direction. The final consideration is how will the kitchen cabinet stain or painted finish look on the door/drawers.
Paint, Stain & Other Kitchen Cabinet Finishes
The decision to go with either a painted kitchen cabinet finish or a stained kitchen cabinet finish is subjective, and although there is a big difference between the two in terms of appearance, both are equally as durable. The reason this is the case is because after the kitchen cabinets are either painted or stained, they received a top coat of clear, durable conversion varnish or similar coating that locks down the previous coating and protects from everyday use, without this final step your kitchen cabinets would show signs of wear very prematurely causing an unsightly appearance followed by additional damage. Some other kitchen cabinet finishes that are not so mainstream include; the use of reactive agents that tan the wood and bring out the natural characteristics, flaming the wood with the use of a torch to blacken the wood then removing the heaviest and softest parts on the surface by using a wire brush, the end result yields a very aged appearance. The application of glazes and dyes are another way to achieve an aged or weathered look and even an antique look using the same materials and varying the application process.
What To Look For In A Kitchen Cabinet Warranty
Deciding to purchase new kitchen cabinets is major financial commitment, having a good manufactures warranty will help give you peace of mind knowing your investment is protected. Look for kitchen cabinet warranties that cover the product for as long as you own it. This will be advertised as a "Lifetime Warranty" or more accurately as a "Limited Lifetime Warranty". The best warranties will include full replacement of any defective parts/components with very few exceptions. Typically the single largest exclusion is damage caused by water, this may seem counter-intuitive but it is totally the norm for kitchen cabinet warranties. Another common exclusion is the labor associated with the defective parts/components replacement, this is where the kitchen cabinet installer's company comes into play, it's a good idea to review these terms with the kitchen installer and how they typically handle these types of kitchen cabinet warranty repairs. Verify that your kitchen cabinet installer will follow all manufacturer's written installation instructions is the best way to ensure you do not void all or part of your warranty should a shoddy installation take place.
Still Have Questions?
No Worries, give us a call at 973-636-0100.